Our Expert Tips
Need To Install An Electric Car Charger? Here's What To Expect
24/7 Emergency Services
Licensed & Insured Electricians
Royal Customer Service Treatment
24/7 Emergency Services

Licensed & Insured Electricians

Royal Customer Service Treatment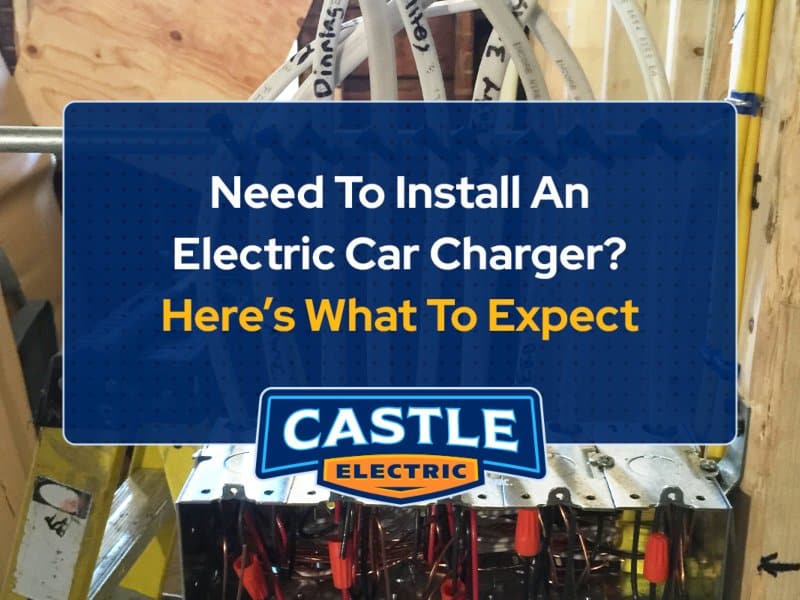 Electric cars are rapidly becoming the way of the future, mainly because of their immense benefits. Not only are they better for the planet (and they look cool) but they also eliminate your vehicular dependence on fossil fuels. And with these gas prices, that benefit may be the most attractive right now.
Even without gas, you still need to power your vehicle and that can become expensive —especially if you charge it at a third-party charging station. However, if you have a home charging station, you can have a convenient and cost-effective way to power your car.
Now that you're ready to have a charger installed, what can you expect? Here is an outline of what you can expect from Castle Electric in regard to the preparation, installation and utilization of your home electric car charging station.
Preparation
Before installing your charger, your electrician needs to do some preparatory work to ensure a successful setup.
Inspect electrical system. First, your home's electrical system might need to be updated, especially if it's an older home. Some homes do not have the electrical capacity to support a car charger, in addition to other common appliances, so an update may be required. (This may also be a good investment in modernizing your home overall.)
Determine the type of charger.Based on the home's electrical system and your driving needs/preferences, you can decide on the type of charger you would like to use. The most common types for home use are Type I (full charge in a week) and Type II (full charge overnight.
Determine the best location for the charger.The location of the charger is important. Aspects to take into consideration are where the car will be parked, and how the charger will integrate into the electrical system
Take measurements.Once the location is determined, measurements will be made for accurate, efficient installation.
Get a quote & installation date. After the scope of the project has been determined, you will get a quote and we can determine an installation date. From there, it's a matter of a professional, certified electrician installing your charger!
Once all of the preparatory work is complete, it's time to install.
Installation
Because all of the preparation work has been completed, the installation should be very quick and efficient. We at Castle Electric specialize in electric car installation, so the process should be a smooth one. You can expect it to take about 2-4 hours.
We'll check to make sure that everything is working correctly and can help you set up any related mobile apps for the charger. We want to make sure that you are set up for success and feel confident using your new charger.
Utilization
Now that the charger is installed and inspected, you're ready to power your vehicle and hit the road! Depending on the vehicle, you may be able to monitor the charging process. And if any questions or issues should arise, we would be more than happy to help.
Now you know the process of installing an electric car charger at your home. If you're ready to get the process started, contact us onlineor call (781) 762-9891 today.
We're excited for you to hit the road!