24/7 Emergency Services
Licensed & Insured Electricians
Royal Customer Service Treatment
24/7 Emergency Services

Licensed & Insured Electricians

Royal Customer Service Treatment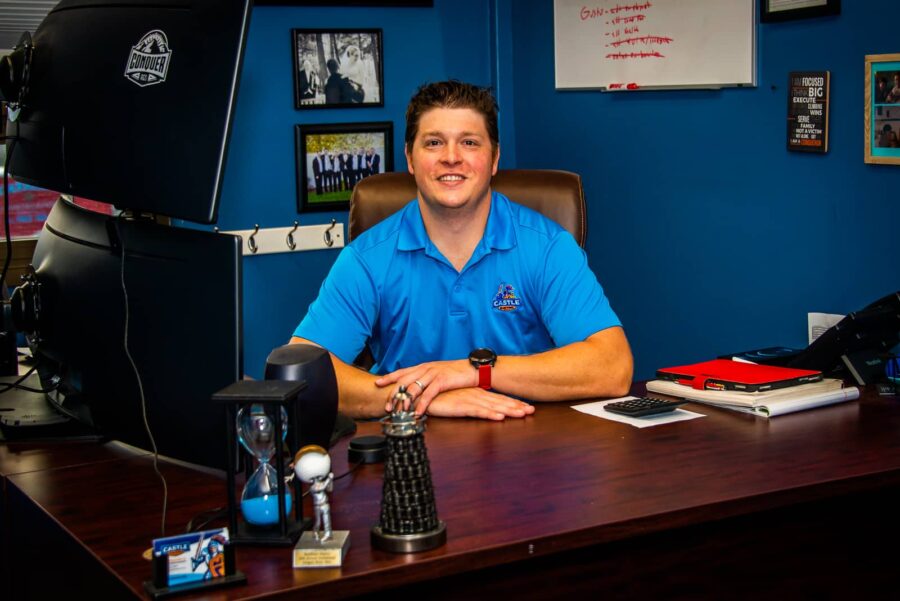 Electrical Safety & Security in Newton, MA
Are you worried about your family's safety? Of course you are! At Castle Electric, we would be happy to help you with any electrical needs. Our goal is always to keep your home and your family as safe as possible, no matter what it takes. Reach out to our electricians in Newton, MA today and we will be there soon to help you out.
Book Now
Book Now
Common Electrical Problems
We can take care of any electrical problem in Newton, MA. Some of the most common ones we see are:
Circuit breakers that trip regularly. This can indicate wiring problems, an appliance problem, or a circuit issue.
Outlet problems. If your outlet sparks, smells like it's burning, gets hot when you use it, or doesn't work at all, we'll find the problem and fix it fast.
Flickering lights or lights that have gone dim. You may have a wiring issue that needs urgent attention.
Switch issues. If your switch sizzles or gets hot to the touch, call ASAP for help.
Electrical shocks. If you feel a shock when you use a switch, an outlet, or an appliance, call to get it tested today.
For All Your Electrical Safety Needs
Need electrical safety in Newton? Call Castle Electric today!
When to Call for Immediate Electrical Help
Some electrical situations constitute an emergency. If you experience any of the following, call our emergency electrician in Newton, MA right away.
You are regularly experiencing electrical shocks or you experience a severe electrical shock.
You smell a burning or burning rubber smell and you can't locate the source.
Your outlets or appliances spark repeatedly
Your lights flicker constantly
These issues can indicate a major electrical problem. Stop using your electricity, if you can, and call us right away.
Common Electrical Hazards
Understanding electrical hazards can be the first step toward addressing them. Here are some of the most common dangerous electrical situations that we see regularly:
Old wiring
Damaged wiring
Overheated wiring
Pinched wiring
Overloaded outlets
Outlets without guards
Water near unprotected outlets
Overloaded power strips
Daisy chained power strips or extension cords
Lamps with too-high wattage bulbs
Too many appliances on one circuit
Our team can inspect your home and let you know if we find any of these electrical hazards. If we do, we'll perform your electrical repair in Newton, MA ASAP.
Electrical Inspections
Our team can give you the peace of mind that you want and need. Call today and we'll perform an electrical inspection in Newton, MA soon. We'll let you know if things are working well or if there are upgrades and other changes we can help you with that might make your home safer.
Knob & Tube Removal
This is an old kind of wiring that can be dangerous, especially if you are using a lot of high-powered appliances. Our team can determine if you have this kind of wiring, then work with you on a plan to get rid of it and replace it with new, updated wiring that will be reliable for years.
Smoke & CO Detectors
We can help you get the smoke and CO protection in Newton, MA that you need. We'll wire these into your home's electrical system so you will be sure to get the alerts you need no matter what. Our electricians will test the system before we leave to make sure it will be one you can trust with your family's well being.
Surge Protection
Whole-home surge protection in Newton, MA can protect every electronic device in your home. This includes surges from lightning, power grid failures, and more. Call today to find out how you can make sure your valuable technology and appliances will have maximum protection.
Call Us Today
You're busy. That's why our process from start to finish is designed to compliment your schedule and lifestyle.
Get An Appointment
With scheduling made easy, you'll be able to pick a time that works for you. Your time is valuable. We get it!
Sit Back and Relax
We show up and deliver on our promise with every customer. That's our Five-Star Guarantee is extended to every customer.