24/7 Emergency Services
Licensed & Insured Electricians
Royal Customer Service Treatment
24/7 Emergency Services

Licensed & Insured Electricians

Royal Customer Service Treatment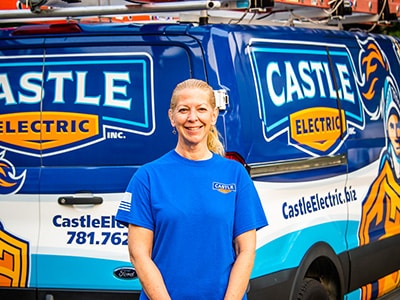 New Home Wiring in Newton, MA
When you build a new home from the ground up, there is nothing more exciting than customizing it to your needs. At Castle Electric, we view the new home wiring process as a blank canvas. It is a chance to get it right the first time, so that you get many years of effortless electrical use. Our electrical contractors in Newton, MA have the expertise to help you meet minimum code standards, as well as make your home systems efficient and easy to use. Reach out to us today!
Book Now
Book Now
Home Lighting Design
From expansive LED lighting to a single closet light, our crew at Castle Electric, Inc. has years of experience with the layout and installation of all types of lighting. We understand that the way you light a room can change the entire look and feel. We have completed projects ranging from landscape lighting to recessed lights. At Castle Electric, we can always find the best option based on your space and budget.
We also take functionality into account in every new home wiring installation. Are we working on lighting a workspace or are we simply installing an accent light? Knowing all the factors that will make your room glow is our business. All of our team members also have the code and installation knowledge to foresee roadblocks that lighting designers may not upfront. Please contact us today with any questions or to schedule a new home wiring consultation.
For All Your Electrical Needs
Need electrical service in Newton? Call Castle Electric today!
Home Addition Wiring
When adding on to your home it is a great opportunity to add some of the things you may not have in the older portions of your home. You can add recessed lighting, USB charging receptacles and many other modern amenities. At Castle Electric, we work as your new home wiring electrician and your consultant. Using our code knowledge as well as our extensive layout/design experience, we help you design your new addition to function exactly how you envision.
5 Things To Consider When Building Your New Home
The excitement of having a new home is an accomplishment that will make you feel complete. The plans of having a home to call your own will give you the satisfaction once it comes together. However, for your electricity to run through your home perfectly there are several things to consider before moving in.
Location of Outlets – When having an idea of what the features of the rooms will be, it is important to plan where your outlets and wiring for your devices will be as well. You will need to have a plan so that all of your electrical equipment can be appropriately placed with connection to the electricity. Meeting with one of our master electricians will help you with putting a plan in place.
Understand Your Wiring System

– You should understand the electrical needs that you will need for you and your family when moving into your new home. Typically a standard sized home will require 100 to 200 amps for the electricity to properly work. You should also understand the difference between lead sheathed wiring, surface conduit wiring, and concealed conduit wiring. Knowing the difference between these can help you decide which wiring system would fit your needs.

Do You Need Extra Power?

– If you are someone who uses a large amount of power for your audio, visual, and entertainment needs, then finding out about a larger wiring system may fit you better for your home.

Energy Efficiency

– Many new homeowners are embracing the ability to remotely control the electric energy in their home by using a control system. With this futuristic type of control system, money will be saved on your electric energy costs.

Customizable Light Switches

– Your light switches do not have to be boring and basic. You can put some creativity into your lighting, with LED-based control panels or other similar solutions. You can also apply the same creativity to your power outlets. Meeting with one of our Castle Electric electricians will help you find your aesthetic creativity in the lighting for your home.
Call for Help With New Home Wiring in Newton, MA Today!
Reach out to our experts at Castle Electric for your next new home wiring project in Newton, MA. We'll be there soon and we'll finish your new home wiring ASAP so you'll have the electrical functionality you need fast. Call now!
Book Now
Book Now
Call Us Today
You're busy. That's why our process from start to finish is designed to compliment your schedule and lifestyle.
Get An Appointment
With scheduling made easy, you'll be able to pick a time that works for you. Your time is valuable. We get it!
Sit Back and Relax
We show up and deliver on our promise with every customer. That's our Five-Star Guarantee is extended to every customer.