Our Expert Tips
Castle Electric Is Now A Span Electrical Panel Dealer!
24/7 Emergency Services
Licensed & Insured Electricians
Royal Customer Service Treatment
24/7 Emergency Services

Licensed & Insured Electricians

Royal Customer Service Treatment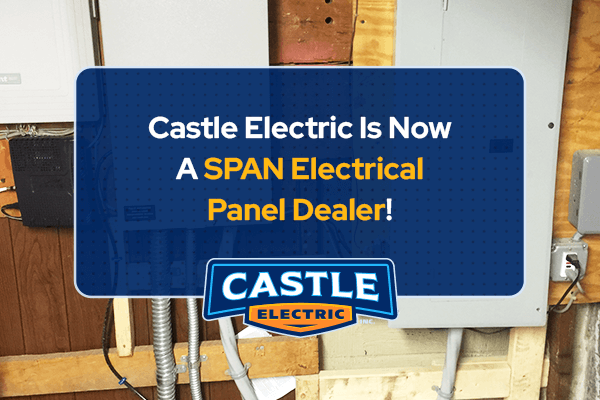 Have you ever wanted to save energy and update your home's electrical system for modern needs — but you never knew where to start? Now you can, because Castle Electric is now a certified SPAN dealer and installer.
The SPAN electrical panel is the solution for all-things "smart home" – including smart energy usage. The SPAN panel is a smart electrical panel designed to modernize your home energy system by completely replacing your existing electrical panel, whether new-build or retrofit.

With SPAN, you can control and monitor every circuit in your home from your phone, understand how your home is sourcing, storing and using energy in real-time, and modernize your home without worrying about your existing electrical system.
To learn more about the SPAN panel and how you can improve cost savings, safety and "coolness" of your home, read on.
What Is a SPAN Panel?
A SPAN panel is an electrical panel that addresses the electrical needs of the modern home – especially the smart home. These panels update a hundred-year-old design with energy-saving and safety features that let you feel at ease with your electrical usage.
Essentially, the SPAN panel monitors electrical usage throughout your home and moderates its use for appliances that are not in current use. Further, it connects to a smartphone app so you can monitor and control energy usage from anywhere.
The SPAN panel also connects to a battery so that you have an extra bank of power in case of emergencies. This safety feature is just one of the advantages of installing the panel in your home.
Advantages of SPAN
If you want to upgrade your energy efficiency, get an electric car, prepare for power outages, or even install solar panels, a SPAN panel will help you achieve your home energy goals. A few of the advantages of SPAN include:
Energy savings. SPAN panels monitor the energy usage in your home. Instead of previous models that did not moderate energy flow, the SPAN panel directs and conserves energy as it is needed. So, you can save money and the planet at the same time.
Emergency readiness. You can connect a SPAN panel to an energy reserve battery so that you are prepared in the event of an energy outage (which can be especially prevalent and dangerous due to rising temperatures). Further, you can strategically conserve the battery reserve by only powering the parts of your home that you need through the app.
Electric car-ready. The SPAN panel is specially designed to power electric cars. While some older homes may need to be upgraded to accommodate electrical car needs, the SPAN panel may improve efficiency so that you do not need to make the expensive upgrade.
● Built to last outdoors. SPAN is weather-resistant and can replace your outdoor electric panel — rain, snow or shine.
● Designed to blend indoors. SPAN can blend right into your indoor spaces as well — hallways, kitchens, living rooms, basements, and everything in between.
The SPAN panel will not only update your home to a smart home, but it will also allow you to save money and upgrade to other modern energy options.
How You Can Get SPAN
Updating your home can be less of a luxury and more of an investment with SPAN. Not only will your home be "smarter," it will also be more cost-effective and safer. A win-win.
If you have questions about SPAN and installing it in your home, contact Castle Electric for more information.