24/7 Emergency Services
Licensed & Insured Electricians
Royal Customer Service Treatment
24/7 Emergency Services

Licensed & Insured Electricians

Royal Customer Service Treatment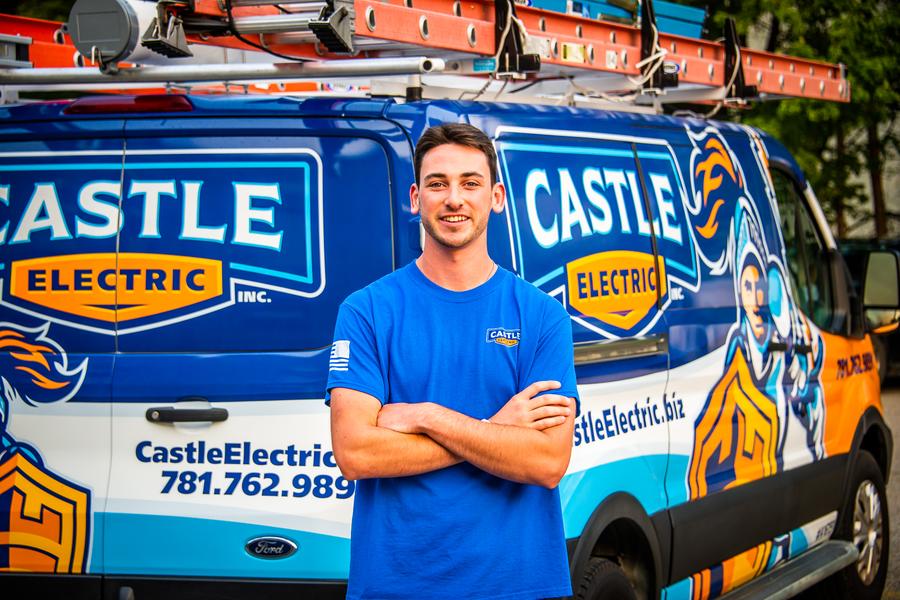 Service Upgrades in Newton, MA
Home and business energy consumption is steadily on the rise. Every electrical item you add to your home or business increases the strain on your electrical service.
Your electrical service consists of the wires and pipes on the outside of the home or building, including the meter and the wires leading from the meter to your electrical panels. While every home or business set-up varies, we offer a free consultation that includes a written quote and an action plan to upgrade your current electrical service to meet demands. There are often several options to best suit your needs:
Upgrade your entire service to 100 Amp or 200 Amp
Replace damaged parts of your electrical service
Electrical panel replacement
Repair the grounds
Replace the meter and exterior portion
With each option, there are many variables that we will help steer you through. Please contact the Newton electrical contractors at Castle Electric with any questions or to schedule a consultation!
Book Now
Book Now
What Happens If I Disregard Having An Upgrade?
Making sure that the electricity in your home is safe and functioning properly is important for your everyday use. Ignoring electrical issues that has plagued your home can be a worry that never ends. Along with having to worry about a fire breaking out because of faulty wiring, some of the other issues that can take over your home without an updated electrical system are:
Power Outage – If new appliances need to be added it is important to make sure your electricity is upgraded to fit your needs. Contacting Castle Electric for an upgrade will help prevent any future power outages from outdated electrical systems.
Possible Electrocution – Keeping your wiring maintained in your home is something that should always be a priority. Having one of our professionals check the wiring and electrical system in your home will help eliminate the chance of accidental electrocution.
For All Your Electrical Needs
Need electrical service in Newton? Call Castle Electric today!
How Do I Know When It Is Time For An Upgrade?
With your home and business depending heavily on your electrical system, it is important to make sure that it stays maintained. However, if you are wondering when it is time to upgrade your system, some signs to look out for include:
Breakers Continue to Trip
If your breaker trips every time you turn on a high draw appliance, then it is time to consider having an upgrade for your electrical system. Our professionals can come and check out your breakers to see if your system is using too much power with the electrical system it has and help you with making arrangements for an upgrade.
Aging System
If your service was last installed or upgraded more than 30 years ago, you may not be running on a 200 amp service. At a lower grade service, your electrical system may not be able to keep up with the modern appliances being used.
Burning Smell or Discolored Outlets
If you smell something burning, make sure to find the source because if it is ignored, it may cause a house fire. If there is a burning smell coming from the breaker box, it could either mean that your entire system is overloaded or one particular circuit is overloaded. One of the connections in your breaker box may also be loose. The burning smell could be caused by extra heat coming from too much current flowing through the wires. The heat from the wires could cause your outlets to turn darker or brown.
Extension Cords
The overuse of extension cords to try to create more outlets can also be a sign of needing an upgrade. If you find yourself running out of outlets, looking at adding more circuits may help with eliminating the overuse of extension cords. Our certified Castle Electric professional can meet with you to let you know if there is an upgrade needed in your home or business.
Call for Help With Electric Panel Upgrades in Newton, MA Today!
Reach out to our experts at Castle Electric for your next electric panel upgrade in Newton, MA. We'll be there soon and we'll finish your electric panel upgrades ASAP so you'll have the electrical functionality you need fast. Call now!
Book Now
Book Now
Call Us Today
You're busy. That's why our process from start to finish is designed to compliment your schedule and lifestyle.
Get An Appointment
With scheduling made easy, you'll be able to pick a time that works for you. Your time is valuable. We get it!
Sit Back and Relax
We show up and deliver on our promise with every customer. That's our Five-Star Guarantee is extended to every customer.