24/7 Emergency Services
Licensed & Insured Electricians
Royal Customer Service Treatment
24/7 Emergency Services

Licensed & Insured Electricians

Royal Customer Service Treatment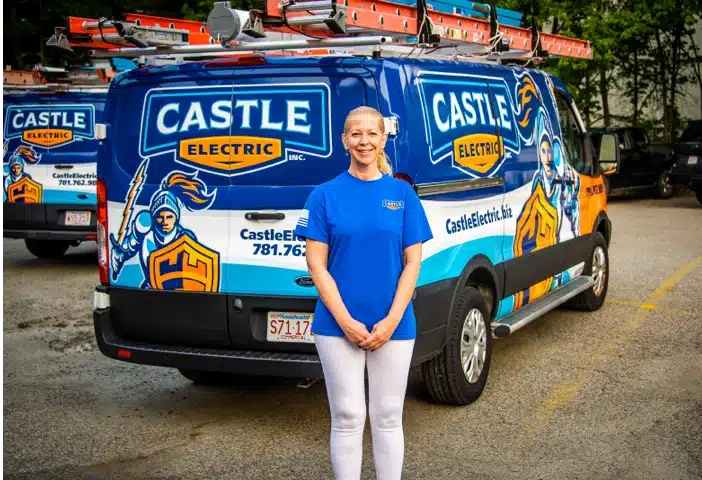 Electrical Installation in Newton, MA
When you need help with an electrical installation in Newton, MA, rely on our skilled team from Castle Electric. We'll send an experienced Newton electrical contractor to your door fast to make sure your home is working again as quickly as possible. Whether you need to install a new electrical panel or under cabinet lighting, we are the team to call. Reach out today!
Book Now
Book Now
Benefits of Hiring Licensed Electricians for Installation Projects
There are many benefits that come from hiring licensed electricians in Newton, MA for all of your installation projects. Give us a call and we will be there soon. We will make sure that you get:
Ensured compliance with electrical codes and regulations. Our electricians know all of the updated rules and laws and we will ensure every installation meets or exceeds the minimum required.
Our expertise in handling complex installations and wiring setups. You won't have to worry about something not working right or problems with wiring when we are on the job.
Lower risk of electrical hazards and accidents. Because we work with electricity all the time, we know how to keep you safe!
For All Your Electrical Needs
Need electrical service in Newton? Call Castle Electric today!
Common Electrical Installation & Replacement Services We Provide
Emergency Electrical Installation
Electrical Panel Installation
Circuit Breaker Installation
Electrical Switch & Outlet Installation
Home EV Charger Installation
Generator Installation
Indoor & Outdoor Lighting Installation
Ceiling Fan Installation
Smoke & CO Detector Installation
Surge Protector Installation
Wiring & Rewiring
Installations Your Electrician Should Do
Having a new smart device for your home is always exciting to have for all of your needs, but when it comes to installations, some of the devices may require hard wiring. While many brands may provide installation instructions for the more complex projects, having a better understanding of how everything needs to be installed may require a professional. Some of the devices that should be installed by a professional include:
Doorbells – Installing a doorbell sometimes involves special wiring, especially if there is a camera connecting to it. This would be why an expert would be needed to connect your doorbell and to make sure all of the wiring is done correctly.
Thermostats – Being one of the most popular devices to use in the home, the thermostat is not easy to install. It would be best to hire one of our certified electricians to install your new smart thermostat.
Wall Outlets – Wall outlets are important to rewire for accommodating your new smart home devices. Without an electrical background, there could be damage or it could even be dangerous. So having a skilled expert to make sure your wall outlets are connected properly will save you on encountering problems.
Smoke Alarms – Making sure your fire alarm is installed correctly is something that could save your life. Letting a professional come in and install your smoke alarm will guarantee that you and your family are safe.
Light Switches – If you are wanting to swap out your traditional light switch for a smart light switch, you may want to bring one of our certified electricians in to help with the wiring. Not being used to the process or being uncomfortable with higher voltage outlets will have you stressed about what to do. This is where we step in to ease your mind.
Our Electrical Installation Service Process
Work with us to get a streamlined, efficient process for your electrical installation in Newton, MA. Call us when you want:
An initial consultation and assessment of electrical needs. We'll make sure we thoroughly understand the project before we start.
A customized electrical system design. Your installation will fit your specific home and your needs.
All of the necessary permits and approvals. We'll get these so you won't have to worry about them.
Someone to take care of the installation with precision and efficiency. Our team will work fast so your installation will be in place soon.
Call for Help With Electrical Installations in Newton, MA Today!
Reach out to our experts at Castle Electric for your next electrical installation in Newton, MA. We'll be there soon and we'll finish your installation ASAP so you'll have the electrical functionality you need fast. Call now!
Book Now
Book Now
Call Us Today
You're busy. That's why our process from start to finish is designed to compliment your schedule and lifestyle.
Get An Appointment
With scheduling made easy, you'll be able to pick a time that works for you. Your time is valuable. We get it!
Sit Back and Relax
We show up and deliver on our promise with every customer. That's our Five-Star Guarantee is extended to every customer.