Our Expert Tips
What Smart Home Technologies Should Be Installed By A Professional?
24/7 Emergency Services
Licensed & Insured Electricians
Royal Customer Service Treatment
24/7 Emergency Services

Licensed & Insured Electricians

Royal Customer Service Treatment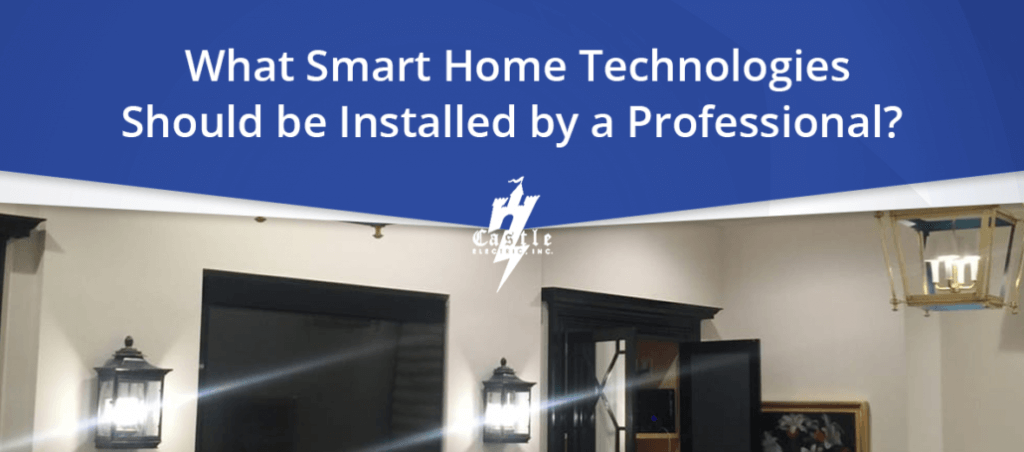 As we spend more and more time at home, many people are considering how to improve their living spaces. One solution is through smart home technology.
Not only does smart home technology help improve day-to-day life, it can help conserve energy use, improve security and — let's be honest — make everyday tasks more fun.
There are a number of smart home technologies available, and some options are simple enough to install, like an Alexa smart speaker, without an electrician's help. But how do you know which devices you can install yourself and which ones need a professional? Read on to learn more so you can prepare to make your home smarter.
DIY vs. Professional
Some smart home technologies are simple to install, such as Google Home or Alexa devices. However, for example, some other devices that you would use Alexa to control require more installation complexity than an electrical plug and Wi-Fi access. Instead, they could involve hard-wiring into your home and even water line access.
If you choose these devices, there is a possibility you could install them yourself. Many brands provide installation instructions for their more complex products. While you could do this on your own, it is important that you have a strong foundational understanding of electrical principles so you can avoid frustration as well as keep yourself and your home safe.
The following are devices that would involve hard-wiring and other technical steps that could benefit from professional installation. Which ones are you considering?
Smart Home Technologies Best Installed by an Electrician
There are a variety of exciting smart home devices that could be added to your home. Below is a list of the most common smart home appliances that we recommend being installed by a professional.
Doorbells. These additions seem so handy to have at home. You can see who is coming to your doorstep and you can keep an eye out for your packages. Installation of the doorbell requires special wiring that is best done by a professional. The camera is, after all, part of your home's first line of security and first impression.
Thermostats. One of the most popular and useful smart home technologies are thermostats. They easily help you keep track of the temperature, monitor energy use, and even allow you to change your home's thermostat from your phone while you are away. However, this system is not a simple install and it would be best to have a professional take care of things for you.
Wall outlets. Wall outlets need to be re-wired to accommodate smart home technology. If you do not have an electrical background, this task could prove difficult, cause damage, or even be dangerous. But the task is simple for a trained electrician.
Sprinklers. Apart from electricity, sprinkler controllers involve timing capacities, water monitors, and leak detection. If you want to make sure your sprinklers are going off at the right time and properly monitoring water flow/leakage, it would be best to have a professional install this device. This way, you can get the peace of mind in regard to your sprinklers that made you invest in the technology in the first place.
Smoke alarms. These are among potentially life-saving smart home technologies. Smoke alarms can be more effective, alarming the whole home premises, and there is usually no need to worry about battery replacement. However, setting up a smoke alarm incorrectly could have the opposite effect and be a life-threatening liability to your home.
Light switches. A light is only as smart as its switch. While there are plenty of options for smart light bulbs or plug adapters, you will be limited by a traditional, "dumb" switch — especially if you want to include dimming functions. As opposed to some other smart home technologies, swapping the switch can be simple unless you are unfamiliar with the process or uncomfortable with higher voltage outlets.
Do the above options get you excited about the possibility of smart home technologies in your house? Read on to determine what you can do to start the process.
Next Steps
More and more people are considering and installing smart home technologies for the cost- and time-saving capacities, along with enhanced security in the home. Since we are spending more time at home, it's important to invest in technology that improves these aspects of life — and makes your home more fun and comfortable!
If you want help selecting or installing smart home technologies, contact us at Castle Electric. We would be happy to answer any questions and make sure your smart home is set up in the smartest way possible. Simply contact us online or call (781) 762-9891.