24/7 Emergency Services
Licensed & Insured Electricians
Royal Customer Service Treatment
24/7 Emergency Services

Licensed & Insured Electricians

Royal Customer Service Treatment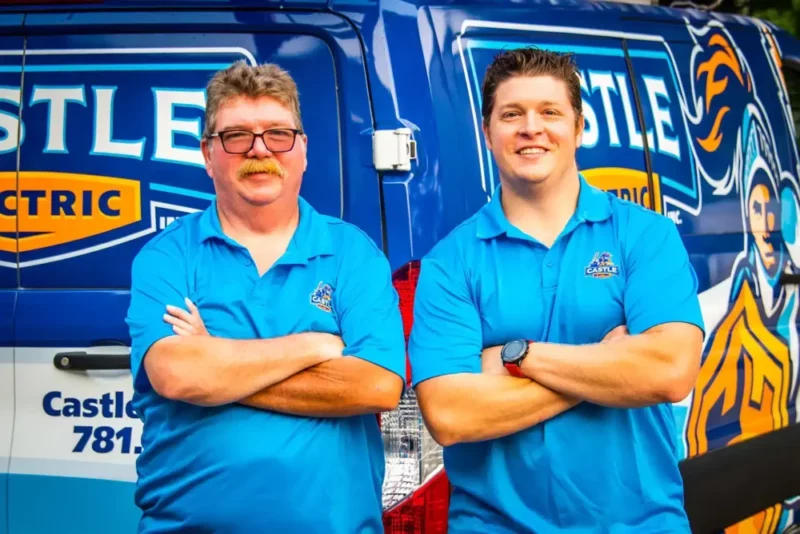 Residential Electrical Contractors Newton, MA
Castle Electric is your trusted partner when you need an expert electrical contractor in Newton, MA and beyond. From electrical installations and repairs to troubleshooting and maintenance, no project is too big or too small for our expert team of Newton electrical contractors.
Your home is your castle, and you can rest assured that we'll help keep it safe and keep things running the way you need them to with our reliable, and cost-effective solutions.
Reach out to us when you need a reliable electrician in Newton, MA or the surrounding area and the difference of working with a local Newton electrical contractor who prioritizes your safety and satisfaction above all else!
Book Now
Book Now
Our Electrical Services in Newton, MA & Beyond
We've been in business for a quarter of a century and we're proud to offer a full range of electrical services in Newton, MA and the surrounding communities! Rely on us for any of the electrical services below:
Electrical Repair
Electrical Installation
Electrical Panels
Electric Panel Upgrades
Circuit Breakers
Switches & Outlets
Lighting
Ceiling Fans
New Home Wiring
and more!
For All Your Newton Electrical Needs
Need electrical service in Newton? Call Castle Electric today!
Why You Should Hire a Licensed Electrical Contractor in Newton, MA
Hiring a licensed electrical contractor in Newton, MA is essential for a number of reasons:
Safety: Licensed electricians ensure secure handling of electrical systems, adhering to industry standards for your safety.
Quality: Experts in their field, licensed electricians provide top-notch work, reducing the risk of future issues.
Compliance: They are well-versed in electrical codes, guaranteeing compliance and avoiding legal and safety risks.
Insurance: With insurance coverage, hiring a licensed electrician protects you from accidents and property damage.
Troubleshooting: Licensed electricians quickly resolve complex electrical problems, saving you time and money.
Warranty: Most offer warranties, providing peace of mind for post-service issues at no extra cost.
Professionalism: They maintain a professional, tidy approach throughout the job, respecting your property.
Permits: Licensed electricians handle permits and inspections, ensuring work meets safety regulations.
Reliability: Count on their experience for efficient project completion.
Value: While an initial investment, licensed electricians ensure long-term reliability and avoid future costly repairs.
Choosing a licensed electrical contractor in Newton, MA guarantees professionalism, safety, compliance, and lasting electrical reliability for your home or business. It's an investment in peace of mind and property security!
Why Choose Us for Your Newton Electrical Services
You need to know what sets us apart from any other electrical contractor in Newton, MA you can find online. To help you see what makes us different, here are some of the assurances we offer every client and every project:
We will be on time
You will get clean and reliable service
Pricing is upfront and transparent
We stick to our contracts, and we won't try to change it on you
All our work is thoroughly legal and safe
We stand behind our work
Multiple crews are available to help you quickly
We have more than 40 years of experience helping people just like you
Castle Electric was built from high-quality work and solid partnerships, and we feel our track record of success speaks for itself. We believe you'll be able to tell the difference, too.
At Castle Electric, we believe in making you our priority. With our high standard of providing our customers with superior service, we will not leave you disappointed. Our dedication is to provide top quality work and to meet your satisfaction. With trained and experienced electrical contractors in Newton, we strive for perfect professionalism.
We provide a wide variety of electrical services in Newton, MA, including lighting design, service upgrades, panel maintenance, generators, knob and tube removals, emergency electrical services, and new home or renovation assistance. Let our trusted professionals complete your complicated renovation or easy fix. There is no job too big or too small!
Think About Your Home For A Moment
Electricity isn't just about convenience for you. You rely on it for everything from the air conditioning to your phone's battery. You may not think about your electrical system until you have a significant issue, but we believe you should consider it before problems arise.
Many times we hear clients say their problems came "out of nowhere," but that's likely not so! We frequently see residential mishaps that homeowners can prevent with some basic maintenance or better installation procedures. You probably remember to maintain your plumbing, lawn, and roof, but when was the last time you had your electrical system looked at?
Castle Electric can help you ensure the electrical systems in your home are functioning properly. We don't want you to see our residential electrical service in Newton, MA as a cost – it's an investment in your home!
Times Change. Stay Ahead of Them!
Building codes are constantly being modernized and updated, and aging electrical components can be a major hazard to your home and family. New technologies provide safer ways to power your home and minimize the risk of fire, damage, or outages.
Don't wait for problems to arise before you call us for electrical service in Newton. Whether you're renovating, adding on, or starting from scratch, you need to have a residential electrical service that fits your needs. There are hundreds of reasons you might require our services, so don't wait until it's too late! We can save you time, frustration, and lessen the vast potential for future damage to your property.
Newton, MA's Reliable Residential Electrician
You are always Castle Electric's number one priority, and we do everything in our power to ensure that our electrical services in Newton, MA leave you satisfied. Our dedication to quality work and professionalism is the solution to your next big development.
We take on a variety of projects, including lighting design, service upgrades, panel maintenance, generators, knob and tube removals, emergency services, and new home or renovation assistance. Our expertise has satisfied our clients in the Newton area for decades, and we'd love to get to know your needs.
Trust your home to Castle Electric for everything from a complicated renovation to a simple fix. Call us today!
Book Now
Book Now
Call Us Today
You're busy. That's why our process from start to finish is designed to compliment your schedule and lifestyle.
Get An Appointment
With scheduling made easy, you'll be able to pick a time that works for you. Your time is valuable. We get it!
Sit Back and Relax
We show up and deliver on our promise with every customer. That's our Five-Star Guarantee is extended to every customer.