Our Expert Tips
Is Your Electrician Safe? Be Confident In Castle Electric With Our New Certification Process
24/7 Emergency Services
Licensed & Insured Electricians
Royal Customer Service Treatment
24/7 Emergency Services

Licensed & Insured Electricians

Royal Customer Service Treatment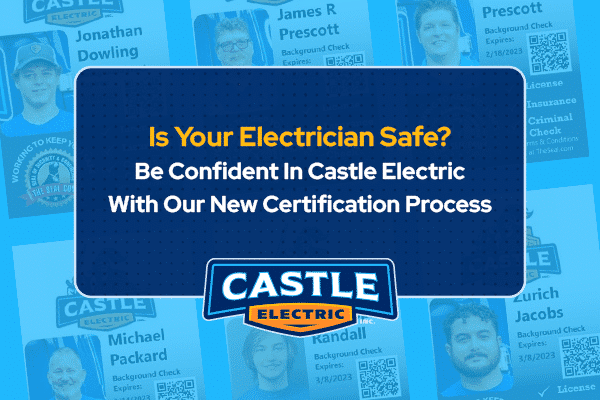 You hire an electrician to work in your home because you want your project to be completed safely. But while your technician can do electrical work safely, how do you know your technician is a "safe" person?
Castle Electric is dedicated to safety on all levels, which is why we've chosen to set ourselves apart with The SEAL certification. If you see the SEAL badge of approval, you can count on safety! To learn more about what The SEAL certification is and how all Castle Electric technicians are committed to your peace of mind, read on.
What Is The SEAL Certification?
The SEAL certification is a verification service that checks the most important aspects of a trustworthy technician: license, insurance and background check.
License. First, The SEAL ensures that your technician is properly licensed. All of our electricians are properly trained and certified in their field.
Insurance. If anything goes wrong on the job, our technicians are properly insured. Rest assured your home is totally protected by skill and insurance coverage.
Background check. While professional accreditation is necessary for your project, perhaps the most important aspect of your technician's certification is ensuring they are a safe person. The SEAL ensures that the technician in your home clears a criminal and sex offender background check – so you can feel safe.
Technicians then wear a badge/SEAL of approval to show that they are safe professionals to work in your home.
Company-level Confidence
Apart from allowing you to feel safe with a professional electrician in your home, the SEAL of approval also helps you make informed decisions. The SEAL website also provides information regarding company-level verifications, as well as verified testimonials about our work.
The SEAL aggregates reviews from a number of testimonial websites (such as Google Business and Yelp) to show you the full history of company testimonials from a variety of sources. Further, The SEAL creates a composite score based on these review websites.
Providing you with a host of transparent information regarding our certification and reviews is important because we want to make sure we are your informed choice. You can see the review compilation at The SEAL website here: Castle Electric Verified Review Composite.
Our Certified Technicians
All of our technicians are SEAL certified. These professionals include Michael Packard, Christopher Randall, James Prescott, James R. Prescott, Jonathan Dowling and Zurich Jacobs.
We at Castle Electric are the #1 electrician firm in Norwood County and we have 24 years of experience. But there's more to a company's trustworthiness than its experience and reputation. We want to make sure you feel confident and safe with each individual on our team!
Next Steps
So, next time you hire an electrician (or any in-home contractor), keep an eye out for a SEAL Certification badge.
If you have questions about The SEAL certification or would like to schedule an appointment, contact us at Castle Electric. We will be happy to serve you and honored to know we've earned your trust. Simply contact us online or call (781) 762-9891.