24/7 Emergency Services
Licensed & Insured Electricians
Royal Customer Service Treatment
24/7 Emergency Services

Licensed & Insured Electricians

Royal Customer Service Treatment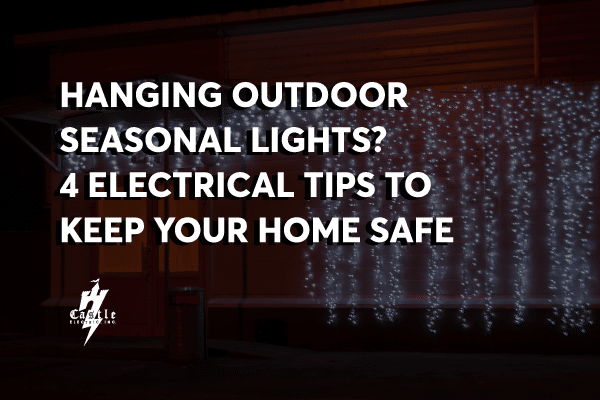 It's that time of the year: trick-or-treating, family feasting, and last but not least, the traditional Christmas sweater contests. The holiday season is definitely here. From October through December, many families take pride in decorating their homes and yards by hanging outdoor seasonal lights. If you're ready to finally win that neighborhood house decorating contest, or just excited to get in the festive mood, here are four electrical tips to keep your home safe when hanging seasonal lights:
1. Make a Checklist
It may have been a year or longer since you've last used or hung your lights. It's best to test your lights first to make sure they're functioning properly. After pulling them out from storage, carefully unravel them and analyze for any cracked, dull, or broken lights. If any lights need to be replaced, consider using C7, C9, or LED lights, which are all durable for their size and reliable for outdoor weather. Making a checklist helps determine what needs to be purchased beforehand:
A stable ladder
Waterproof C7/C9/LED lights (certified "outdoor")
Plastic light hooks & clips (not metal nails or tacks)
Waterproof extension cords
Proper outdoor power outlet
2. Create an Outdoor Safety Plan
Before hanging anything, it's best to do a walkthrough of your yard and outdoor environment to scan the area for hazards: trees near or touching power lines, broken fixtures on the house, puddles or snow piles, and animal nesting areas. Check the surfaces of your house, balcony, etc. for any loose areas that light clips may not hold onto securely. Also, take measurements on how long your light cords and extensions need to be in order to safely plug into power outlets without tugging.
3. Use Caution While Hanging Light Displays
Be sure to connect your seasonal light plugs to a ground-fault circuit interrupter (GFCI) outlet, which automatically shuts down in case of overcurrent. While hanging, make sure the lights are easily reachable with a ladder. You don't want to extend them too high or at difficult angles – this puts you at risk of losing your balance.
4. Call Your Electrician for Advice
After all of your work is complete, there is always possibility of blowing a fuse, leaving you unsure of what went wrong. A certified electrician will have the background knowledge and immediate suggestions on what to do.
For additional advice on hanging seasonal lights or assistance with replacing and installing electrical fixtures, Castle Electric is one call away. We hope you enjoy the holiday season and look forward to servicing your home or business in the new year!