Our Expert Tips
Hiring an Electrician is Safer & Smarter Than Wiring on Your Own
24/7 Emergency Services
Licensed & Insured Electricians
Royal Customer Service Treatment
24/7 Emergency Services

Licensed & Insured Electricians

Royal Customer Service Treatment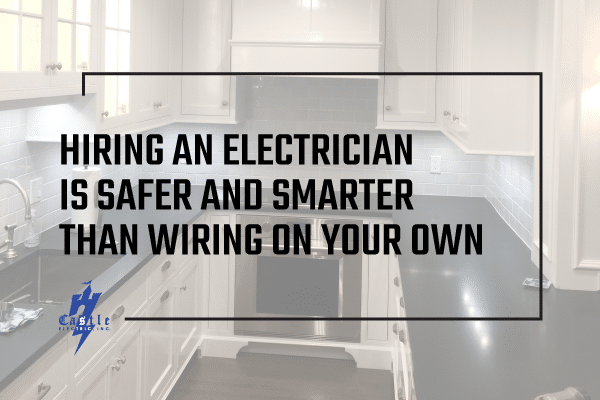 Don't take the do-it-yourself approach when you need electrical wiring updates – it might seem like a good opportunity to save money, but it could get you seriously injured. It could also cause issues that put lives in danger. Just because you could potentially do the work on your own doesn't mean you should. Here are three reasons why:
Reason #1: An electrician will complete the project faster
You may think that hiring an electrician will be expensive, but you will lose money if you let a significant project take too long to complete. If you're just learning how to wire electricity safely, you won't be able to move as quickly as you might like.
Electricians already know the things you don't know. Their experience can save you time and potentially money by doing the job quickly and properly. Their knowledge and skill makes sure wiring is completed on time, without error.
Reason #2: Electricity is dangerous
Something as simple as forgetting to check for live wires can lead to serious injury or death. If you are making minor adjustments to the safe and proper wiring of a licensed electrician, that's one thing. But what if you're trying to work on wiring completed by the previous homeowner or an amateur contractor they hired? That changes your perception, and the fact is, you won't know the quality of the system unless you hire a pro.
The fact is, even in small amounts, electricity can kill you given the proper conditions. Hiring a professional electrician will put the risk in the hands of workers who know what to do and have done it before. Don't put yourself needlessly at risk for the pride of saying you did it yourself.
Reason #3: Inspectors won't cut you any slack
There are plenty of projects that don't involve pulling permits or scheduling inspections, but electrical wiring isn't one of them.
Electrical work typically requires both the proper permit request before the project begins and a certified inspector to sign off on the work after the fact. This is to ensure there are no fire hazards and all wiring is completed to code.
Working with a professional will increase the chances that your project is approved by the right officials and is definitely to code – no town or city fines.
Conclusion
Hiring a professional to help you wire your next project is clearly the smart and safe thing to do.
Here at Castle Electric, we're always happy to help, no matter how big or small your project is. We'll do safe, quick work that aligns with your timeline and keeps your home safe. Get in touch with us today and let's get started.